Mary Blair| Legends | History | Disney Fans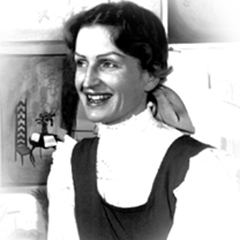 An imaginative color stylist and designer, Mary Blair helped introduce modern art to Walt Disney and his Studio, and for nearly 30 years, he touted her inspirational work for his films and theme parks alike. Animator Marc Davis, who put Mary's exciting use of color on a par with Matisse, recalled, "She brought modern art to Walt in a way that no one else did. He was so excited about her work."
Animator Frank Thomas added, "Mary was the first artist I knew of to have different shades of red next to each other. You just didn't do that! But Mary made it work."

Walt connected with Mary's fresh, childlike art style. As Disney Imagineering artist Roland Crump once told animation historian John Canemaker, "The way she (Mary) painted - in a lot of ways she was still a little girl. Walt was like that... You could see he could relate to children - she was the same way."

Born in McAlester, Oklahoma, in 1911, the inherently gifted artist won a scholarship to Chouinard Art Institute in Los Angeles. After graduation in 1933, at the height of the Depression, Mary took a job in the animation unit of Metro-Goldwyn-Mayer (MGM) rather than pursue her dream of a fine arts career.

In 1940, she joined The Walt Disney Studios and worked on a number of projects, including the never-produced "Baby Ballet," part of a proposed second version of "Fantasia." (Walt's original idea was to periodically re-release "Fantasia" with new sequences.)

In 1941, she joined the Disney expedition that toured South America for three months and painted watercolors that so captured the spirit of the Latin countries that she was named art supervisor on "The Three Caballeros" and "Saludos Amigos." Mary's unique color and styling greatly influenced such Disney postwar productions as "Song of the South," "Make Mine Music," "Melody Time," "So Dear to My Heart," "The Adventures of Ichabod and Mr. Toad," "Cinderella," "Alice in Wonderland," and "Peter Pan." She also contributed to special shorts, including "The Little House" and "Susie, the Little Blue Coupe."